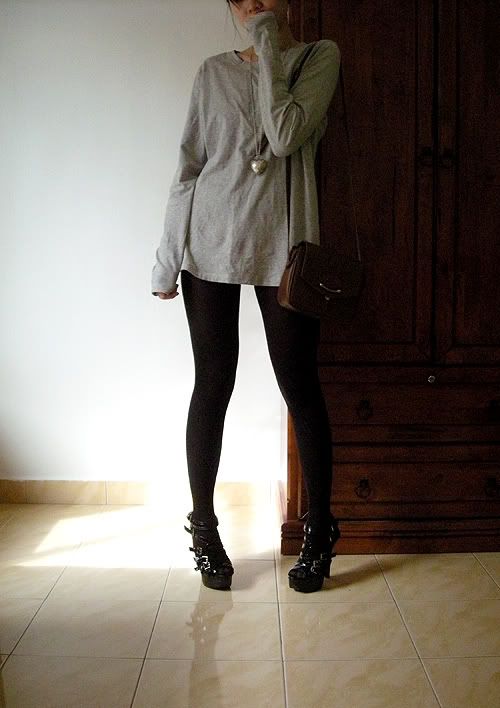 (GAP Maternity long-sleeved top, Vincci heart-shaped chain, black tights, vintage shoulder bag, Urbanog strappy heels)
Throughout the years, I've developed some kinda strong liking towards something loose and baggy at the top, say a knitted sweater, paired with a skinny bottom. They looked very casual and house-wifey at the same time, like those women carrying groceries in brown paper bags on their left hand and on the right, their car keys. Looking busy and walking towards their car, an SUV or station wagon to be precise. As for me, I like that kind of life - minus the word 'housewife' :)
Btw, my bangs have been really irritating you can't hardly see my eyes, right?

Yes, that bag. It is vintage and it is old. Seriously old. It was at the shop, probably since a decade ago that it has roaches inside (not mine) and dust all over. For those who followed my blog, you can see that I've worn it before but I never get to talk about it, like a lot. It costs only approx USD2-3. After giving it a lil wipe & shine with so much fear that creepy crawlies might crawl out of nowhere, it looks like brand new. It is new anyway. Old and new, at the same time. Alright, cut the crap.