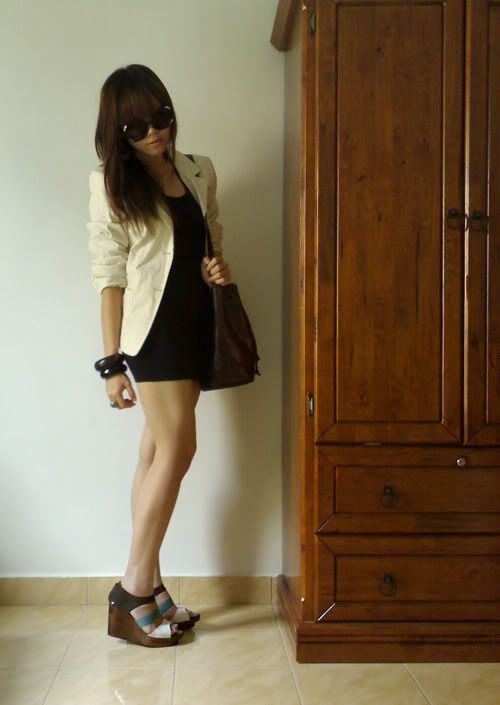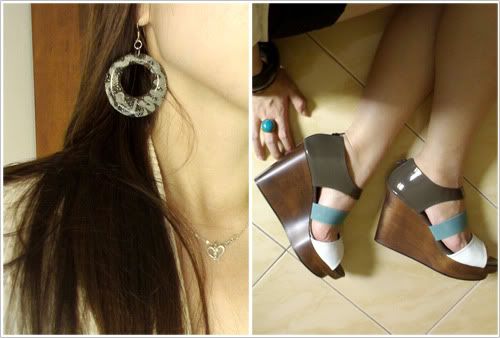 (Rafaella pin-striped blazer, Pastarasta black tanks, random black tube as skirt, F21 sunnies & wooden bangle, MissCindy black plastic bangle, NOSE wedge, Diva turquoise ring, vintage bag and earrings)
I tried to make my outfit today look 'resort-esque' and this was the outcome of it. Not the clearest pictures and I apologise for the poor resolution images. I took shots of these on that gloomy Sunday. There are more of those blurry images coming up as I took a few shots on that day cos that's the only Sunday where I could laze around the house. So I hope all of you could bare with me for awhile. Anyway, I found an earring which I bought a few years back and I thought it kind of goes well with this resort look I'm chanelling. Plus, I'm finally debuting the wedge I bought after the so-over-it -chaotic-trip to the city.
I will probably be slightly occupied next week but I'll try to keep 'em posts posted :) Have a nice week everyone! And a

HUGE

thank you to those who have been faithfully visiting/leaving comments on my blog. Not forgetting those who'd just bumped into this blog. ♥ Hearts to all!