(F21: White Tank Top, Tiered Chains, Edge-defining Sunnies. Grey skinnies & clutch from a random store)

As promised, I've finally found some extra time to make a so called, collage, of items I managed to grab during my trip to the city 2 weeks ago. As you can see, these items can be easily found almost anywhere and nothing too special about it. I wasn't too happy about my purchases if you notice from the words I am using. Well, true but at least I grabbed something rather than coming back empty-handed. At least, that was how I tried to convince myself because I realised I was doing it all wrong when I came across a blog yesterday, brigadeiro which offered lots of useful shopping tips and that it's really okay to go home without purchasing anything. Sigh. No point crying over spilt milk, right? But, there are some which I didnt regret purchasing. It's still ok, I guess.

Bought it for the lamest reason ever- 'I need a clutch'. Twas the first thing I saw and twas cheap. Why not, I thought. Or so I thought.
Grey Skinnies with Side Zipper:

Topping up another worn out pair which magically turn into an acid-washed skinnies after days spent in the outdoors.

White Tank Top:
Trying that whole A.Wang thing. Due to lack of time, I tried it with my clothes on and I think you guys know the rest of the story. What a silly thing to do.

Layered chains:

Mutemode grabbed it too. Affordable and exactly what I needed :)

Sunnies:

Been craving for one since style-antagonist owned one but it was never on my wishlist-kinda forgot about it.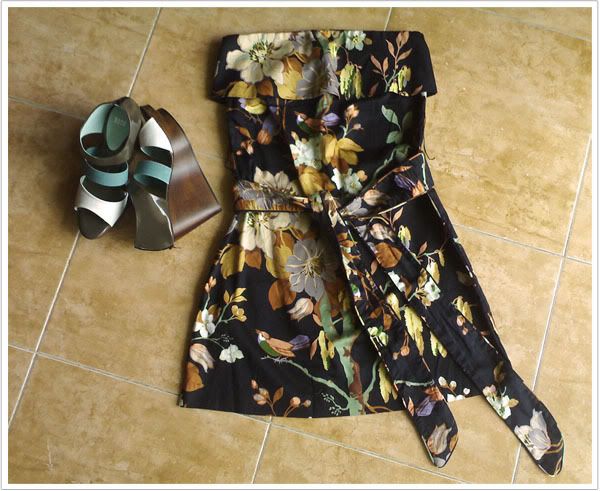 (NOSE Wedge, MNG MANGO Floral Dress)
I've never felt so dissatisfied about my purchases until that day. So, as a revenge, we binge-shopped at the local malls and ended up purchasing these two items. The floral dress is my favourite and it was on sale. Ah, nothing feels as good as buying worth-buying sale items and coming back to my home sweet home. The dissatisfaction ended since then.

(Someone please do me a HUGE favor and give me a big slap as a reminder of the current economic crisis. I should really stop shopping!)